Orientation Lecture
An orientation lecture for first year students was organized on 9th July 2019. Students were apprised about college rules and regulations, Examination Schedule, different co-curricular and extracurricular activities for the academic Year 2019-20.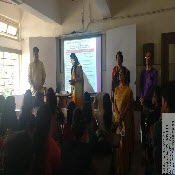 Photo Gallery
Parents Teacher Association Meeting on 11th August , 2018
It was conducted on Saturday 11th August , 2018.Prof.Girish.Mahaddalkar.In-charge welcomed the parents. Dr.Kanchan Dutt explained the rules and regulations of the examination pattern , the marking scheme ,ATKT rules etc. Prof.Girish J.Mahaddalkar, Prof.Sony Paul , Prof.Bhavana Trivedi,Prof.Aditya Dhayfule explained the various activities of several committees.
Prof.Ajay Acharya highlighted the newly commenced activities viz workshop for CA CPT , coaching for MBA entrance test , Add-on Courses such as CCC, Tally GST etc , various Value added courses like paper quilling, Pooja Thali decoration etc.
The meeting ended with tea and refreshments for the parents.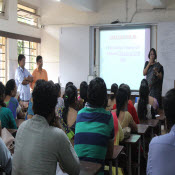 Photo Gallery
Orientation lecture on 1st August, 2018
An Orientation lecture was organized on 1st August, 2018 for all First Year Students. During lecture students had been oriented regarding Rules and Regulations of the College, Academic and Examination Schedule, different co- curricular and extracurricular activities.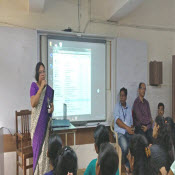 Photo Gallery