Career in Finance 28th July, 2018
Post Graduation Department in Association with Commerce club organised Session on "Career in Finance" by Global Talent Track (GTT) on 28th July, 2018. In that session Mrs. Rizwana Kadamthodi, Key Account Manager, Corporate Alliance, GTT guided students on Innovative Technologies used in banking sector and career opportunities in banking sector.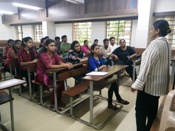 Photo Gallery
Lecture on Financial Literacy-28th July, 2018
A Guest lecture on "Financial Literacy" was arranged by Commerce Club & Planning Forum on 28th July, 2018 in Room no 204 for M.Com students.
The speakers for the session were Mr. Milind Ashrit, Financial Advisor, Disha Trust, ICICI Academy for Skills & Mr. Sebastian Pinto, Faculty- Office Administration & Selling Skills, ICICI Academy for Skills. This session was highly interactional for the students as they got to know about Insurance, Investment, Finance and also on how to improve their soft skills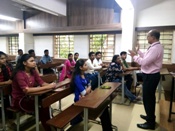 Photo Gallery