Activities of the DepartmentBack
The Department offers Mathematics and Statistics at F. Y. B. Com level and Computer Programming at S. Y. B. Com and T. Y. B. Com
Considering the importance of Mathematics and Statistics, the department gives intensive coaching during tutorial lectures
Department also conducts remedial lectures for the students who are weak in Mathematics and who opted Secretarial Practice during Higher Secondary Level
The Department conducts "Data Analysis and Presentation Competition" for the students with an objective of teaching the practicability of the subject and inculcating research mentality among students
Staff members guide the students to do research at local areas on socially relevant topics like 'Plastic Waste Management', Enrolment in Higher Education', Mobile Banking' etc
Department also guides and sends students for various intercollegiate Data Analysis Competitions. For last few years our students are getting First and Third prizes at intercollegiate 'Data Speak ' competition conducted by J.M Patel college.
Department has the responsibility to prepare attendance Defaulter's list.
The Department also developed a software for college exam result and analysis.
The department has one Computer Lab with 30 Computers which are LAN connected. It has Wi-Fi internet connection, Scanner and Printer. One Lab assistant is appointed in the Lab. Students use the Lab for Practical purpose as well as for college level searching information.
Asst. Professor Sony Paul has published two Book in the subject Mathematics for Std. XI. Also published one research paper.
Asst. Professor Sony Paul is a member of Indian Science Congress.
Year of Establishment 1994
Faculty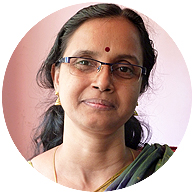 Mrs. Sony Paul
M.Sc., B. Ed, M. Phil., Advanced Diploma in Computer Application, Certified Six Sigma Black Belt. (Assistant Professor) (Head of the Department)
Papers and Books Published