Annual Degree Distribution Ceremony 31st March 2018
Annual Degree Distribution Ceremony Batch 2016-17 was conducted on 31st March 2018. Prof. Anil Karnik, Director Garware Institute of Career Education and Development, University of Mumbai was the Chief Guest. The programme was presided over by Shri. S.K. Sawant , Hon. President, Shailendra Education Society.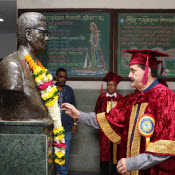 Photo Gallery
Annual Degree Distribution Ceremony 27th Feb. 2017
Degree Distribution ceremony was organized on 27th Feb. 2017 in principal D.G. Samant Hall from 12:00 Noon to 4:00 PM. Dr. Snehalata Deshmukh, former vice-chancellor of university of Mumbai was chief guest for the function. This was 20th batch of graduate students and 2nd batch of Ph.D. holders of our college. Degree certificate has been distributed by Dr. Snehalata Deshmukh and distinguish members of management to the students.